Rescued Donkeys & Special Needs Donkeys
We are located in "Kentucky"

This page contains rescue donkeys as well as special needs donkeys - most are considered rescues and are offered for adoption. Many of these animals have been severely neglected or abused. Therefore they should go to a home that has lots of love and patience to give and not expect these donkeys to be just like any other one they would buy that has never had the negative experiences that some of these poor animals have had. These donkeys usually do learn to trust but just need extra time. You should be willing to give them the time they need. The younger the donkey the faster they usually get over their trust issues. Then they can make wonderful pets and companions just like any other donkey and you know that you have given a donkey in need a new chance and beginning!!! They are very smart animals and will realize if you are good to them.
These animals are priced according to what we have invested in them and any moneys will go right back into the rescue pot to help any future donkeys in need. If anything we have lost money on several of the rescue animals.

For other donkeys for sale please check on our for sale page.

Sana (Rescue)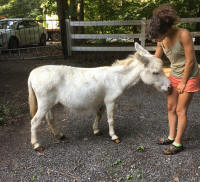 Sana came to us with a group of jennies that we purchased out of unfortunate circumstances. She is at least partially blind on one eye. She is a super sweet girl and woolly to top. She will make a wonderful pet and companion. She is still a young girl and beautiful in her winter coat. In the picture she is down to her summer fur.

Valera (Rescue) - Adopted - (2019)
Age: unknown - but she is an older jenny that we think was probably bred with her entire life and wasn't properly cared for. In our opinion she should have been retired way before now or better taken care of. We purchased her so this wouldn't have to happen again - she absolutely deserves retirement - she is the sweetest girl though that loves any attention she can get.

Sidi and her little jack foal Sebastian (not a rescue but Special Needs)
DOB: 29. April 2019
color gray/white spotted jack foal
Sidi's little jack has a substantial overbite and will require regular dental care (teeth floats) when he gets a little older.

Sebastian found a home with one of our other boys

Sweet Moma - Adopted - (2019)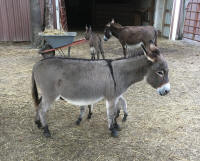 Sweet Moma
approx 14 years and a really sweet, small and pretty girl!

Sweet Moma has been adopted...


Jodie and Kenyon - Adopted -
Jodie is considered a rescue that we brought home from Missouri. Only about a month after we brought her home she gave birth to Kenyon, a very social and lovable little boy. We brought Jodie up to date on vaccinations, wormings and hoof trims. They need to go to a home that either already has other donkeys or they can go together or puchased with one of our other "non-rescues" (see our for sale page). Again, each rescued donkey or group of donkeys has different adoption fees only to recoup what we have invested in them since we don't live on donations and want to coninue occasional rescue. We can only do that if we recoup our expenses. We want them to have their own forever home!
Both have been adopted...

The following donkeys are standard size and need to be rehomed to a good and permanent home that will provide regular hoof care, shelter and basic care. Below is the information that their current owners have provided. We are in no way responsible for wrong information. If you need more information or have any questions please contact us.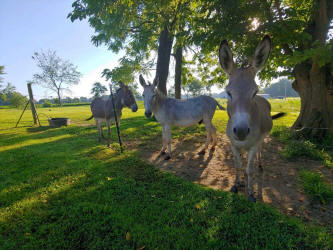 Jill, Pete, and Jasper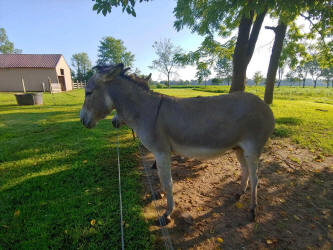 Jasper is 5 years old and is the son of jill. He is a gelding and came to his current home when he was 3-4 months old. Jasper and Pete often wrestle around with each other. Jasper at times can be a little bit tricky at hoof trimming time.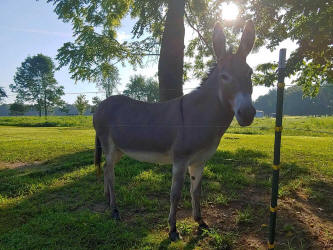 Jill is believed to be between 12-15 years old and has been at her current home since about 5 years. She is the mother of Jasper. Jill was running with cattle before she came to her current home and she can be pretty sweet. Jill can be touchy with her back hooves at trimming time due to a bad experience with a farrier at her current home.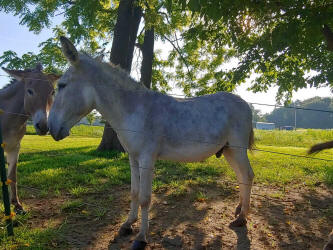 Pete came to his current home five years ago. He is a gelding. He was abused and neglected in the past (not at his current home). Owners state:"On a good day he will really let us love on him. He is more of a gentle giant and often lets the minis we have boss him around. He is believed to be between 12-15 years old. Pete does well with farriers.

Adopted out to Kentucky, Tennessee and Arizona (2016)
This is a group of three donkeys and a goat that we saved from going to auction - with only one place to go - that I don't even want to think about. Billy Bob is a 7-8 year old billy goat pictured in the top row. Ginger is an overweight 16 year old gray jenny pictured in the second row along with Greta (brown) that is in her 20's and only has one eye. She has been rescued once before through another rescue because her former owner abused her, resulting in the loss of her eye. Goose is the gelding and he is also 16 or 17 years old (last three pictures),They are very sweet donkeys and have been at the same home for the past 12 years. While we first thought that they should be placed together, we think it is better for Greta (the oldest not to be placed with the goat because the goat thinks he is a donkey and wants to ride her constantly. He doesn't do that with the others.). Greta can be placed preferrably with Ginger or to a place that already has another old donkey. Ginger can go to a place with other donkeys if she can't remain with Greta. For Greta it would be best not to have to climb any hills. All of them are friendly including Billy Bob!
All have been adopted out: Goose stayed in Kentucky, Billy Bob was adopted out to Arizona and Greta and Ginger went to Tennessee together.

Adopted out to Malibu, Ca along with Olina
Kelly is a 7 or 8 year old rescue jenny with a cute little boy at her side (DOB: 30. Sept. 2016). He is super social and she is a sweet girl.

Adopted out to Hickory, Ky
Mary is about 10 years old and has an adorable black/gray little boy (DOB: 06. Oct. 2016) at her side. When Mary came to us her hooves were in horrible shape but we have really gotten them back into shape. Two sweet donkeys.....

Adopted out to Indiana
Lori is a stunningly colored 8 or 9 year old rescue jenny that gave birth to an adorable little spotted boy (DOB: 9. Sept. 2016). Her little boy is very colorful as well, beautiful spot pattern and the cutest little face.

Adopted out to Malibu, Ca along with Kelly
Olina is a 7 year old jenny and the last of the rescue girls to give birth to a sweet little girl! (12. Oct, 2016). If someone would like two jenny/foal pairs Olina and Kelly came here as friends.

Adopted out to Malibu, Ca along with Rosie

Adopted out to Siler City, NC
Pearl - frosted spotted white 16 or 17 year old jenny with the cutest gray jack foal (born 02. Sept. 2016) - he has the cutest head. Pearl has had really sore feet when she got here. She cannot be on too much grass. She seems to know that and loves to hang around the barn to eat hay. She is the sweetest girl one can imagine. We can let her out into the front yard for a little grazing and she never wanders off - she'll go back to the gate when she wants back in or follows us when we tell her it's time to go back up. We never got to know a donkey quiete like her. Pearl needs to go to a home where she will have a good farrier, will be loved, and where she absolutely will never be bred again. Pearl will be adopted out with her baby, that is just as sweet as she is!
Pearl and her baby boy ("Jasper") have been adopted out to North Carolina.

Adopted out to Maple Park Il, and Malibu, Ca.
Rosie and Candie left - Candie top row, Rosie bottom row

Adopted out to Buchanan, Michigan
(now a gelding)
This spotted boy, is 5 years old. His former owners say that he enjoys driving a cart. We don't have a cart so can't vouch for it, but are passing on what his owners said.
In our opinion he should be gelded. He has smudges of color all over - and a cute smudge right in his face.
He looks to be a dark brown/gray/white spotted.
Nickel's first pictures when he arrived - he was so dirty it was hard to tell where his spots were. His hooves were really long but not as bad as the girls' feet.


Ginger, according to her former owner is 13 years old. She is such a sweet, small girl!
Adopted out to Trenton, Illinois (as a companion to our Tina and Malia).

Big Moma above and Libby below will be up next for adoption....Libby is about 11 years old... We were not told on Big Moma... but think she is similar age. We have seen both girls come into heat so they should not be bred. We would like to adopt them out together or to a home with another donkey. Both come up for attention and treats.... and are looking for their forever home.
Both jennies are adopted out to London Kentucky (2016)

Natalie

gray-dun

Gray-Dun - 30 1/2"
DOB: 03. May 2007
Picture taken Jan/2012

Natalie came to us as a weanling from an older lady whose husband was very ill. (The same place the three little jacks came from pictured on this page that were adopted out). We agreed to purchase her since she had no other place to go. She was not friendly when we purchased her as a weanling and has been at our other place since - we have not worked with her much except for routine health care. She would do best in an environment with not too many animals so that she would have a chance to become more friendly. The perfect scenario would be a home where she can be friends with another friendly donkey so that she can learn to enjoy attention. She needs to go to a home where she won't be bred. We have brought her home this winter and see that she is inquisitive and almost seems like she wants attention. She just can't get herself to come and get it.

We have tried to find her a home over the years but never really pushed it hard. I feel like Natalie is missing out on a permanent home that she could and should have. She deserves it.

Adopted
Misty

Beautiful Registered Arabian Mare

Gray
DOB: 26. April 2004

Misty is not a rescue but we thought she may have a chance to finding a good home through this page since I don't know where else to advertise her without running the risk of her ending up somewhere where she doesn't need to be. Misty was purchased from a sale as a 4 months old. She grew up here on the farm as our daughter's 4-H horse. Our daugher taught her everything she knows with the help of a few hours from a trainer. Misty was first shown in halter classes at 4-H shows. Later our daughter attended horse camp with her. She also rode trails with her in Land Between the Lakes during overnight camping trips. Misty has a great pedigree and is a purebred Arabian. We have never tried to breed her since we thought there are too many unwanted horses out there already. Misty is also microchipped.

Our daughter is now 20 years old and going to college. She feels that it is unfair to Misty to not get any attention anymore and we fully agree. She has not been ridden in over a year. Our daughter will be moving out late May and wants to place Misty in a caring and permanent home. Misty needs to go to a home only where we know that she will never be disposed of at an auction. We will require references. We will not sell to horse traders or to someone wanting to resell her.

Misty stands well for hoof trims and is a beautiful horse. Some of her ancestors include Aladdinn, Bask, Naborr, Serr Halim, Bandera, Ansata IBN Halima.



Misty has found a wonderful home with a wonderful family in Tennessee that will be giving her a permanent, forever home with a few other horses for companionship!





Arial

gray-dun

DOB: 05. April 2007

Arial's feet seem to be sore a lot. We don't know what really is causing it. It seems to have happened after she was quicked during a hoof trim. We think that not taking her feet into account she is still not breeding quality and will only place her into a non-breeding home. She will need to go to a home where she will have a companion! It would be best for her to go to a place where she does not have to climb hills. At our place she has hills to climb to get to the water but we think she would do better without the hills and a lot of love!

She is a very sweet girl.

Adopted out to Elisa Kirkpatrick, Creal Springs Illinois. Thank you so much for giving this sweet girl a wonderful, forever home!
We have free puppies and a Great Pyrenees mom that are in desperate need of a good home.
Mom was dumped into our neighborhood and left to starve. She had no place to go and we started to feed her since she was just skin and bones when she made the attempt to hang around our farm. 2 weeks later she delivered a litter of puppies (7 in total of which 2 were stillborn). We had no idea she even was pregnant until just a few days before she had her babies. She didn't show at all. We have attempted everything locally to find both mom and puppies a new home but had no luck. Mom (we call her Saafi is a very sweet dog and gets along with our kids and animals just fine. We don't know what breed the dad is. Pups were born in February. My sister in Germany has volunteered to give one lucky puppy a wonderful home and we may keep one of the pups that the kids got very attached to. That leaves mom and 3 pups! All are spotted and and one is blue marbled (middle picture). If you feel you can provide a good home for any of them please call or e-mail.
- Adopted -
Update: All have found wonderful new homes! One of the puppies has been placed to Virigina. Mom and one of her pups have gone to Louisville. The last puppy has gone to a wonderful family in Florida. We are so thankful that they will now all have a chance at a happy and healthy life!
Marita - Adopted -

Date of Birth: unknown - about 3 years old

Coat Color: Gray-Dun - Rose Dun - 34"

This jenny fits in well with other donkeys and is ok as long as you don't want to touch her. She accepts the other foals just fine. She does take a treat from your hand and likes her grain. If you try and corner her/catch her she is terrified. We truly believe that she has been abused and has had some very negative experiences - we can't touch her back end or attempt to pick up her feet, yet. We are working on desensitizing her and to let her know that we will not mistreat her. We've had other donkeys that were worse than her and know that she will improve with time as long as there is no more abuse. I can see it in her face when I feed and interact with the others that she really wants to be a part of it all and she does come very close to me! She too, has to go to a very loving home that cares about her!

This jenny has an overbite and should not be bred with - the reason why we purchased her so that she would not be continued to be bred with. Therefore we will only be placing her into a non-breeding home. She is considered a rescue.

Update: Marita's cannot be adopted out at this time since we have found out that she had been bred back already at her former home. So this jenny that should never have been allowed to have a baby will yet have another one which makes us even more glad that we purchased her. Since we brought her home late last April we are expecting her baby to arrive some time before then. Marita will be placed up for adoption at a later time again. If you would like to be considered, please send us an e-mail.

Update: Marita gave birth to a little dark gray/brown jack on 13. April 2009. Adoption on her and the baby is pending at this time.

Thank you Warner and Toni Reynolds of Benton, Ky for giving a loving home to Marita and her new baby boy.
Bandit - Adopted -

Date of Birth: unknown - I'm guessing mid February 2008 by comparing him to my other foals

Birth Height: unknown

Foal Coat Color: Gray-Dun - NLP

Sire: untraced

Dam: gray-dun/rose-dun- 34" - 3 years old

This is a cute little jack! With his dark nose and dark eye rings he looks like a little Bandit. He is still a little bit shy but he does enjoy his neck rubs once he decides that I am not so bad. He came to us with already very long hooves and he has just grown new fur around his ankles where he had apparently lost all of his fur. He must have lived in a mud lot. We purchased his mother and him to ensure that she would not be continued to be bred. She should have never been bred in the first place. She has an overbite! This little guy's bite is ok but since he is out of a mom with an off bite he will only be sold as a pet without papers of course. He can later be registered as a gelding if the new owner decides to do that. He deserves a good and loving home and has a lifetime of love to give! Of course as with all of our donkeys he will need to go to a home where he'll have a companion! He can also be placed with his mother into a non-breeding home.

Bandit has improved so much in just a short time - he now comes up voluntarily for his neck rubs and really enjoys them. He is still a little afraid when there are strangers around since his mother gets more nervous then as well. - Adopted -
Little Friends April - Adopted -

Date of Birth: 01. April 2006

Height: 31 3/4" at 28 months

Color: gray-dun

Sire: H.R. Black Magic

32" Black - No Stripe or cross

Dam: Little Friends Savona

31 1/2" - Gray & White Spotted

Little April was born here almost 2 1/2 years ago. She was sold as a baby to a local family that loved her dearly. Sadly unforeseen things do happen. Her owners got a divorce and the donkeys were basically homeless. The water was shut off to the property and a family member had to bring in water and feed which was not sustainable for any longer period of time. So we agreed to purchase the girls and their jack back.

April had an accident at her former owner's place in October 2007. Her leg has healed up but her back fetlock joint seems to be stiff as a result. She walks ok but favors her leg when she stands still. She needs to be going to a strictly pet home and never be bred. She cannot support any extra weight on the injured leg. She is pet quality anyway - and was sold as such as a foal as well. April has lots of love to give - she is a sweetheart and she has always been loved!

Pictures taken on 26. July 2008.

Thank you to the Tucker family of Findlay, Ohio for giving April a loving home.
SVA Little Zacheus (His former owners called him Elais)- Adopted -

Date of Birth: 23. April 2006

gray-dun - Jack

Height: 31 3/4" - 32" at 27 months

Sire: MCR's Jack Frost

33" gray-dun

Dam: Columbia Hill Annie

32" Gray-dun

This boy is a beautiful young jack! While he has the traditional gray-color he is a very correct boy - definitely show quality! (nice straight legs, round butt, nice teeth, little head!!!)

Sadly he is considered a rescue since he basically had to leave the home he has known overnight due to his owners' divorce. The water had already been turned off to the property and one of the family members had to bring these donkeys feed and water - a situation that could not be sustained. He came to us with three girls that we originally sold to the owners as babies a couple of years ago. There is no way we can keep him - since he is a boy and therefore are looking for a good home for him. As I mentioned above he would make a nice show donkey - maybe even driving donkey.

This boy is registered with a good pedigree that only has small donkeys in the background. Valintino 53, Philamena 58 and LN bloodlines make this boy a nice find for somebody!

There is also a little pet jenny that needs a home, too.

This beautiful boy has been adopted to West Virginia!

These are three little jack foals in need of a good and permanent home. (Yes, I know I shouldn't have put a pink halter on them...). We purchased them from an older lady whose husband is very ill and she can't do all the work by herself anymore. (two of these boys were supposed to be girls - but that's another story). These boys would have ended up at an auction if we didn't agree to purchase them with our group of girls. They are weanlings, the two dark brown ones are microchipped. They have a current negative coggins test and are ready for a permanent home. If you think you can provide a loving and permanent home for one, two are all three of these boys please e-mail us at: donkeys@littlefriendsranch.com or littlefriend@dishmail.net or call: 270-753-9270
Update: These little guys have been adopted out to two seperate homes.

Though Dolly is not a rescue donkey - she is offered for adoption as a special needs donkey - to a non-breeding home only.
Spotted Acres Dynamites Dolly - Adopted -

Date of Birth: 01. May 2000

Height: 31 3/4"

Color: Dark Brown

Dolly has given us three perfect and beautiful babies (D'Angelo (2004), Miss India (2005) and now Hot Chocolate in 2007. Dolly will be sold strictly as a pet only as we think that pregnancies take too much out of her. When it is really dry and dusty Dolly has an occasional but chronic cough. She would do best in a little bit of a cooler climate than Kentucky.

Dolly is a complete sweetheart that we can let out into our yard and she will not walk off. She always trusts me 100% with her foals. She was never lead trained but goes anywhere with me. I want Dolly to go to a permanent home where she will be loved as much as I love her and not be a number. Dolly likes children and loves to be brushed.

Pictures were taken with her newest foal this year.

Thank you Dr. Mary Ann Mann of Lewisburg, West Virginia for giving Dolly a good and permanent home. Updates from Mary Ann say that Dolly is doing great and is very much loved!

Sambo in summer coat on left - right in his winter coat.
Sambo is a miniature donkey gelding up for adoption. He should be about 5 years old according to his former owner. He has had his vaccinations and is now current on his deworming.
He still needs work. He used to be a teaser stud on a horse farm and apparently was mistreated and beaten in the process. The people that "rescued" him didn't have that much time to work with him and didn't know a thing about donkeys to begin with. They were kind enough to buy him off the horse farm and got him gelded. They purchased a baby from us and we bought this gelding from them since they were worried that he would end up being mistreated again if he went to an auction. They are probably right. That is why we have made it our goal to find him a good and hopefully permanent home.
I have been working a little with him and it is apparent that he must have been beaten across his back end anyway - probably across the right side of his face/head/body as well. He is better approachable from his left side than from his right side. He does eat feed from my hand as well as out of a bowl sitting on my lap. He seems to want to know where my hands are at all times. He likes his tail head scratched but is still very scared - he doesn't like his head handled much, yet - nor does he want the insides of his ears rubbed, yet. He lets me brush him with a soft brush now. He does greet me with a bray when I come into the barn and seems to be happy to see someone.
He is a beautiful guy, almost black with a dark nose. I'm hoping to find him a place where he gets some attention to make him feel more comfortable around people. Poor guy - I wished I could see what he went through or wished he could talk to tell me. Sambo has been adopted and is still trying to overcome his issues.

Sunshine

3 years old

While this is a donkey site we have decided to try and find our Sunshine a good home. We had rescued her from a horse sale, untouched as an 18 months old - originally thought as a companion for a 4 months old purchased at the same sale. My son fell in love with Sunshine and spent a lot of time with her. She has come a looooong way and has turned into a friendly horse. He taught her to lead and load. A year ago we purchased two more horses for our kids to be ridden in the 4-H drill team since both of the other horses were still too young to be ridden. Since we don't feel that Sunshine would be an optimal riding mount for an 11 year old who himself is still learning to ride we have decided to offer her to a good home only. We have never taken an animal to a sale and are hoping that we will never have to. Therefore we are offering her to a good and loving home where she hopefully can be a companion to another horse or can be trained to ride. She lets us do her hooves, leads and gets along well with other horses - she is a sweet horse. We just don't have the room to keep them all. We promised our son that Sunshine will only go to a good home.

A special Thank You to Karen and David Barbour of York, South Carolina, who have given Sunshine a good home. Sunshine since her adoption has been trained to ride and is doing great!

We are also looking for a home for this boy! He is about 19 months old, and looks to mature into a large standard. We have taken him in, completely unhandled, to safe him from having to go to the sale. He has great potential for a cart donkey, companion or even a riding donkey for a child. He is heavy boned, and has beautiful conformation. He is around 46-48" at this time. I don't have a measuring stick big enough to accurately measure him. He is considered a rescue and is in dire need of a good home! We don't have the facilities to keep him for long but do not want him to go to the sale to end up unloved and unhandled. He is already enjoying his neck and ear rubs but will need a lot of work. He seems to be a very smart boy getting used to his routines very quickly! If you think you can help Torino - please e-mail us at donkeys@littlefriendsranch.com Adoption Fee: $100 Adopted out to Anita Smith and Family, New Carlisle, Indiana. Torino has been to shows and is doing great!

While we have taken in, rehabilitated and placed several rescue donkeys (minis and standards) throughout the years we feel that we should share our latest experience. To us all animals are special and deserve a loving home and we will continue to do our best to try to help animals in need - especially the longears that are such a big part of our daily life!
Early February 2005 we brought home three little Rescue Miniature Donkeys. They had been left without shelter, some rotten, old round bales of hay that were dark to the core (that they tried to eat), and without hoof care or health care. They did not have names. We had already tried to find them a home after I saw them for the first time back in November of 2004. We were not in the position to take them in at that point, thought we had them placed but all fell through. No one wanted to pay the price the owners were asking and not willing to come down on. We finally, with the help of some wonderful, caring people that provided financial, professional and moral support (we couldn't have done it without them) were able to take the 7 hour round trip to bring home the donkeys. They had not been wormed or vaccinated, and their hooves were in really bad shape. While the owner did have their hooves what looked like "sawed off", possibly because of the comments that I had made when I had seen them the first time, that is all they did - sawed off the curled up 6" or so of their front hooves.
When we went to pick them up - of course it was raining when we left - since they had no shelter we took the trip anyway to get them out - it was fairly warm and most of the trailer is enclosed. They were used to worse. We put lots of bedding into the trailer since we knew their hooves were likely still in bad shape even with the hoof trim they had received about 2 months earlier. So if they needed to lay down they could do so comfortably. The donkeys loaded easily - they smelled the hay we had in the trailer for them and got in right away - we didn't have to even put halters on them. They didn't think twice about it. By the time we came home the hay was gone! They were not really skinny since they did have some pasture that they apparently lived off, plus the rotten hay bales. Their fur even looked remarkably good for being out in the weather all of the time - when we inspected them closer a few days later we did find several places of rain rot though which is NOT necessarily a sign of neglect - especially in this part of the country. Here are some hoof pictures that we took after we unloaded them - they are of the jennies' hooves (the jack's hooves were still in relatively good shape - only a bit long):
The jennies had a difficult time walking on the hard surfaces - the smallest one looked really crippled when she tried to walk - very uncomfortable! Her hoof walls were curled completely under and had almost closed off the foot from the bottom. The space was not wide enough to even get a hoof pick in. She was basically walking on a round tube.
The jack foal was wild - he will need some work - he fought the halter and my husband that was holding on to the rope - he wanted to get away and tried every way he knew to try. The bigger jenny is similar the smaller one is fairly friendly. Since the owner had indicated that both jennies should be pregnant - they didn't look to be pregnant to us! We hope they are NOT! It will just be an added burden for them with their hooves needing so much work!
We wormed them the day after they arrived with a mild wormer - and disposed of their poop away from any of our other donkeys. Afterall they are new and have to be quarantined - for them it means having to stay in a stall in the barn. They are not overly excited about that since they have been used to be outside ALL of the time! Soon they will be able to go in and out as they please. It's been raining again and they are nice and dry! The first couple of days they ate everything I put in front of them - they are slowing down now and are leaving more leftovers...
A few days after they arrived they had their first hoof trim - which was a several hour long project - I held the hooves, while they were trimmed. It was not easy since they were so grown under that we couldn't even get a hoof clipper to get a hold of any of the hoof. When we finally had it opened up enough to where we could use the clippers what came off was at least 1" thick - the whole hoof was just a big mingled, grown together chunk. We had a rough time finding the frog within the hooves. After the trim the girls walked so much easier! While it will take some time (if the legs are not structurally messed up from apparently years of neglect) to get the curves to grow out and trimmed out - we are more positive that eventually we may be able to do this. We are happy that the girls feel better and that they have a new lease on life! Here are pictures after the trim:
We have also given them names for the first time in their life! Parsley is the smallest jenny - probably between 6-7 years of age, Kiwi is the bigger jenny (we are not sure about her age), and Alfredo is the jack, about 9 months old. Alfredo had still been nursing but is now being weaned. We are now thinking that his mother, Parsley is likely pregnant again. Parsley will be needing the longest time for recovery with her hooves and if pregnant will have her baby here in peace! Kiwi is getting nicer by the day - she is letting me pet her now. Alfredo is coming along as well. He has let me pet him for the first time on his neck while he was eating his grain almost a week after we picked him up.
Alfredo
Kiwi
Parsley
We will also be looking for a responsible home for Alfredo. Alfredo is being worked with and should be friendly by the time he leaves our farm! He will have had his shots, de-wormings and hoof care - The potential new owner will have to agree to provide regular hoof care, vaccinations and de-wormings, and lots of LOVE! He will also have to have an equine companion. We would like for any homes to be permanent so that he will not end up as one of those poor animals that get shoved around from home to home once the novelty wears off, or a child looses interest.... If you feel like that you are able to provide such a home please e-mail us at donkeys@littlefriendsranch.com or call 270-753-9270.
13. Feb. 2005: They have had their first round of vaccinations today and Kiwi let me brush her for the first time!
04. March 2005: They are doing well. Parsley has balooned out quite a bit - so we are sure she is pregnant and is probably actually pretty far along. We have also found two wonderful homes for Alfredo and Kiwi. Alfredo has gotten much friendlier since we moved Kiwi out of his stall. He enjoys being brushed and rubbed on now. He will likely get to go outside in just a few more days.
12. March 2005: They got their second round of vaccinations and Alfredo gets to go into a large corral during the day time while Parsley stays out with our other pregnant girls. She only comes in for feeding time. We can see some new growth on Parsley's hooves already.
23. March 2005 Alfredo is making wonderful progress. He enjoys our company and my little girl (4 years old) was allowed to brush him for the past couple of days. He stood still and seemed to really enjoy it. Every time she stopped he moved in closer to her to make sure he was in her arms reach. What a change....
15. April 2005 Alfredo has come a long way - he has really been enjoying his daily grooming. He even did great while I had to give him a bath. After the bath he lost many of his "curls" and his fur is straighter now. He also has gone through another round of de-worming. He seems to have really taken to our 4 year old girl. Today, Alfredo was picked up by his new owners and is now on his way to Florida. I am so thankful for such special people that have given him a permanent home where all he is there for is to be loved on and to enjoy himself. I really do appreciate that they were willing to drive all the way up here to pick him up in person.
Parsley seems to be a little tired on her feet. She is really heavy and wide now and I really think she can't get any wider. If donkeys could get stretch marks I'm sure she would have plenty! I'm hoping for her to not to have to go too much longer - she has a bag but it is still pretty loose.
9. May 2005: Parsley had her baby last night at 8:30 PM - born on Mother's Day! We would have lost the baby if we hadn't been right there with her when she went into labor! She had a "red bag delivery" meaning that at least a large part of the placenta detached before the baby was born and the baby did not break through the placenta but came out encased in it - depriving the baby of oxygen. The baby even with the speedy assisted delivery was oxygen deprived and was a "dummy foal". With assistance through the night he is able to nurse on his own this morning - at least on one side. He has not figured out yet - that he can nurse from both nipples. His left front hoof and right back hoof were slightly contracted but by this morning have pretty much normalized. He still favors his left front leg a little bit but I think he will be fine with plenty of exercise with it being a mild case. He looks very much like Alfredo - her jack foal she arrived with, here.
Parsley 9 hours before delivery
Parsley baby (Mocha Latte) pictures at 12 hours of age
28 July 2005: Parsley and Mocha are doing well. Parsley will be going to Florida some time in September. We are not sure yet, if Mocha will be going with her. Mocha is staying very small being just 23 1/2 - 23 3/4" at almost 3 months of age. Mocha had a very bad over bite when he was born and I am pleased to say that his bite has improved a lot.
We have heard from Kiwi's owners and she delivered a spotted baby girl on 26. July 2005. They are thrilled! We are grateful that all went well and that both Kiwi and baby girl are doing fine! Here is a picture of Kiwi's baby.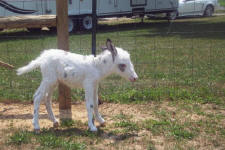 September 2005 Parsley has left to go to her new home to live with Marilyn Watson of Greenville, Florida. Marilyn came up here to spend a day with Parsley before she took her back home. Parsley now has a wonderful loving home which she deserves so much.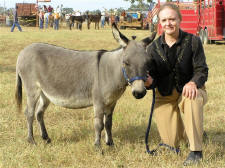 Picture above: Parsley and her new owner Marilyn Watson at Mule Day - Nov. 05, 2005 - Parsley is looking great thanks to Marilyn's thorough knowledge in hoof care, chiropractic adjustments and herbal treatments. Parsley placed 2nd in her halter class that had 8 other entries. I am thrilled considering what kind of shape this little jenny was in just 6 months earlier.

Testimonials from new "Donkey Parents"
Viscous Dog Attacks (contains a disturbing picture)
Rescued Donkeys
Please click the link below to E-mail us: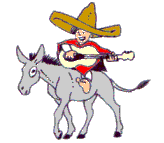 donkeys@littlefriendsranch.com
The Little Friends Ranch
Nadia Attia-O'Bryan
1034 Carl Crisp Rd.
Almo, KY 42020
270-753-9270