2017 Foals

All 2017 foals have arrived
If you would like to be added to our birth announcement list, please send us a short e-mail to let us know.
littlefriend24@gmail.com or donkeys@littlefriendsranch.com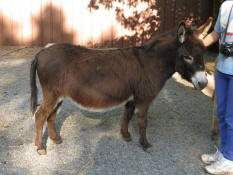 Nona- Update: Nona gave birth to a heavy boned, cute, gray/brown boy (Hercules) on 6. Nov. 2017 during a thunderstorm around midnight.
Hercules is sold!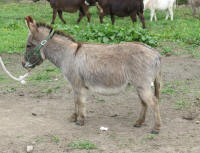 Modesty- Update: Modesty gave birth to a beautiful, dark gray, no light point girl (Pamira) on 3. Nov. 2017 on a full moon night, right after a thunderstorm.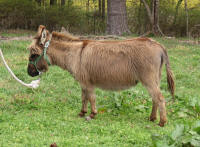 Sage - Update: Sage gave birth to an adorable little jack foal (Cous Cous) on 17. September 2017. The baby looks just like her except for a tiny star on his forehad. Pictures to be added soon.
CousCous is sold!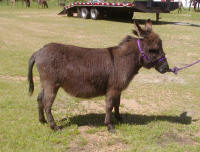 Baby Doll - Update: Baby Doll gave birth to an adorable spotted jack foal (Orion) on 16. September 2017. Pictures to be added soon.
Orion is sold! His mother Baby Doll is still available to a retirment home. Check her out on our for sale page.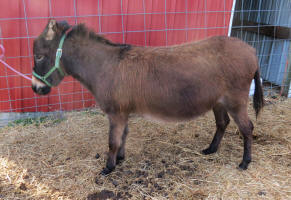 Elia - Update: I don't know what is going on since most of our girls carry their full 12 months. This is our third jenny this fall that gave birth early. Elia gave birth prematurely to a little boy (Oats) on 4. September 2017. No signs of front teeth at a week of age. His front legs were extremely splayed and bowed into the opposite direction (bend through), a real sign of prematurity. Amazing that he was able to get up on his legs to nurse. Elia had shown no signs of being close to birthing and according to schedule we gave her her 3 weeks pre foaling vaccination that very morning. We are not sure if the vaccine put her into labor or why he arrived early, but he was born a few hours later. Legs in the pictures have already considerably straightened out. One seems straight at 7 days of age now but the other one still has some ways to go. He was also super skinny when he was born but has started to put on weight nicely. At one week of age he looks more like a normal newborn now. He does like to play. At two weeks of age, his legs have straightened out a lot and he has gained weight nicely.
Both Elia and Oats are sold!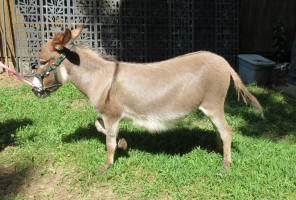 Sunny - Update: Sunny gave birth to an adorable little girl (Hayati) on 02. September 2017, also a couple of weeks early.
Hayati is sold!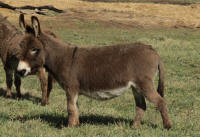 Nachica - Update: We had kept a close eye on Nachica since she lost her first foal at 11 months of gestation during birth. She now gave birth to a cute brown with red tones jack (Guiliano) with the cutest little white spot on his neck on 27. August 2017, three weeks premature. I think right around 11 months must be Nachica's "full term" pregnancy since the little guy does not show any signs of prematurity. His front teeth also came in right in time.
Guiliano is sold!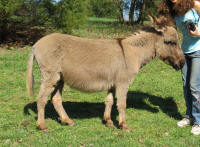 Kailua - Update: Kailua finally gave birth to a cute little dark jack foal (Nidal) on 24. June 2017, a couple of weeks past due, and fully bagged up for almost a month! We had several nights checking up on her, and we thought she was never going to have her baby!
Nidal is sold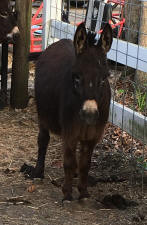 Anna Bell - Update: Anna Bell gave birth to a cute little dark jack (Pitched Dark) on 02. June 2017. All is well, and the baby is beautiful.
Pitched Dark is sold!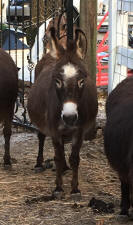 Star - Update: Star gave birth to a cute little brown girl w. blaze (Tirela) on 28. May 2017. It took a while for the little one to find her milk but even after 3 days only drinks from one side. Another first for us and another all-nighter.
Tirela is sold!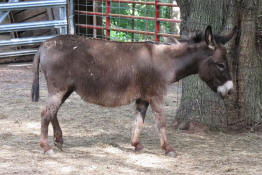 Jacqueline - Update: Jacqueline gave birth to an adorable black with a tiny star girl (Mumbai) on around midnight 22/23 May, 2017. She is a little shy but beautiful and getting better every day. She now enjoys her hugs!
Mumbai is sold!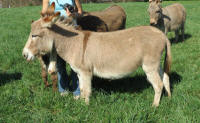 Sahara bred to Sundance - Update: Sahara gave birth to an adorable little spotted boy (Almo)on 18. May 2017 at around 6 pm. Pictures to be added soon...Almo is sold!
Almo (named by his new owner) is sold!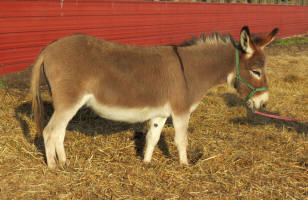 Red Velvet bred to Nacho - Update: Red Velvet gave birth to an adorable little dark red girl (Sirachi) on 14. May 2017.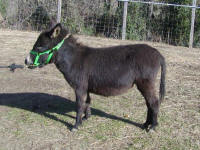 Brazil bred to Sundance - Update: Brazil gave birth to a tiny tyger spotted boy (Inkspot) on 13. May 2017.
Inkspot is sold!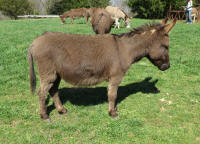 Andina bred to Nacho - Update: Andina gave birth to her first foal, a brown/gray girl ("Daisey" named by her new owners) on 09. May 2017. Andina is a wonderful mom and "Daisey" is such a sweet girl!
Daisey is sold to the same home as "Easter".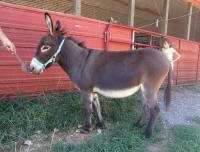 Nila bred to Nacho - Update: Nila gave birth to an adorable little red boy (Kamut) on 01. May 2017. She didn't look ready but when we came home just two hours after Pockets had her baby, he was there greeting us. He was the third baby in less than a day. He was born with a bent ear meaning he had it bent while tightly packaged up in his moma. It took him a while to figure out that the milk bottle has two sides to it and his ear is almost perfect now. With all the bad weather we have had - Kamut had to spend much time in the barn in his first week. He is a tiny compact little boy.
Kamut (renamed by his new owners to "Poppy") is sold!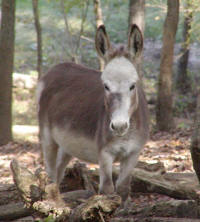 Pockets bred to Nacho - Update: Pockets gave birth to the most adorable little spotted boy (Kibou) on 01. May 2017. I believe he is going to be of a similar base color as Pockets since he has already changed colors since birth. When I left out of the driveway she was just having her baby. So, of course we took care of her first, getting her settled into a stall (since it was extremely windy), and then ran our errand. We made sure that we were back within two hours to check that he had found his milk supply when another little one greeted us... that we didn't count with that day. (see his birth announcement above). Kibou is sold!
Kibou is sold!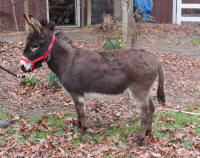 Serena bred to Sundance - Update: Serena gave birth to a cute little dark-spotted girl(Sweet Spot) on 30. April (3rd Sunday baby in a row) . She could almost be Kimi's twin having a very similar color pattern and color. She is a very sweet natured little girl.

Sweet Spot is "Sold".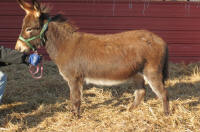 Is-A-Bella bred to Nacho - Update: Is-A-Bella gave birth to a tiny little boy (Millet) on 23. April 2017. We had to pull an all-nighter with this little boy since he just couldn't figure out where the milk bottle was. We had to milk mom since she had so much milk and feed it to the baby every couple of hours. Finally after about 16 hours he figured out where it all came from. Poor Is-A-Bella was really sweet but got so frustrated after hours of him trying. Is-A-Bella is a wonderful mom. She knows her baby is tiny and she is protects him well from the other donkeys. Little Millet has a bunch of zebra stripes on all legs which adds to his cuteness. Millet (renamed by his new owners to "Socks") is sold!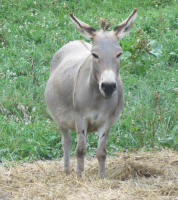 Mary bred to Sundance - Update: Mary gave birth to an adorable dark gray or gray/brownish girl (Easter) on Easter Sunday, 16. April, 2017. Easter is super friendly with the beautiful expressive eyes and heavy boned. Easter is sold!
Easter is sold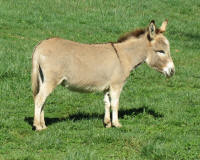 Marillya bred to Sundance - Update: Marillya gave birth to an adorable little fluffy girl (Tamiami) that looks to have some wooly genes and looks to be either a frosted spotted white or very light colored spotted. Time will tell. We will be keeping this little girl since Marillya's dam Mali is one of my all time favorite jennies. Marillya always had frosted spotted whites with Sundance and this is her last Sundance foal.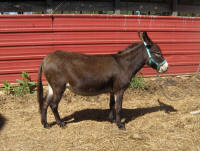 Kyacera bred to Nacho - Update: Kya gave birth to this adorable, correct little brown/bay pattern boy (Cashew) on 07. April 2017. All the tips of his hair were tinged in red (he got that from his sire Nacho). He is a friendly boy and will be offered for sale along with his mother since we will be retiring her.
Cashew and Kya are sold
Cashew and Kaya are sold!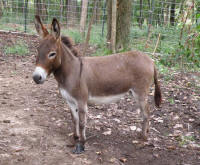 Bunny bred to Sundance - Update: Bunny gave birth to a beautiful dark spotted girl (Kimi) on 05. April, 2017. Bunny is Karena's donkey, so this baby is as well. Karena has decided to keep her since it may be Bunny's last girl and Sundance (sire) was sold this spring. We had always paired Bunny with Jolly or Nacho, and this one is her only Sundance baby.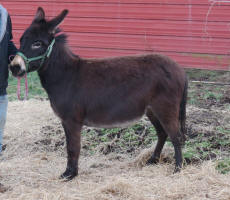 Samba bred to Sundance - Update: Samba gave birth to an adorable little black jack (First Pitch), almost a duplicate of her first foal over 7 years ago (except that this time around he has light points as she does.
First Pitch and mom Samba are "Sold"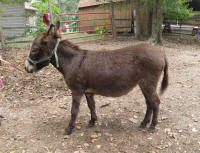 Vienna bred to Nacho - Update: Vienna had been with Nacho for 9 months before she got bred. We had figured that she was barren. Not so.... She gave birth to a beautiful little brown boy on 23. January 2017.
Vienna's little boy is sold.

2017 Foals
Donkeys For Sale (stays updated)
Testimonials from new "Donkey Parents"
Vicious Dog Attacks (contains a disturbing picture)

Please click the link below to E-mail us: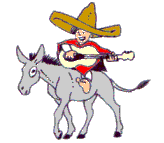 donkeys@littlefriendsranch.com
The Little Friends Ranch
Nadia Attia-O'Bryan
1034 Carl Crisp Rd.
Almo, KY 42020
270-753-9270